September 2, 2020
Mortuary is a movie that participates at the TGIFF festival in the Final Cut Selection.
Trailer:
Director: Aaron Blanton
Country: United States
Category: Fantasy/Fantastic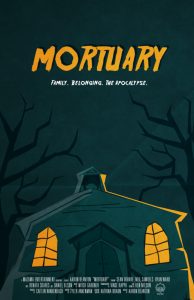 Summary: Family. Belonging. The Apocalypse. Mort Fletcher, the reluctant inheritor of his adopted father's funeral home, gets a second chance at closure when the dead rise again…
Director Biography: Aaron Blanton was born and raised in Eugene, Oregon, where he developed a habit of making big things with little resources. From shooting a donation-based adventure epic at sixteen to a Peabody Award-winning viral video in his college apartment, he learned that creating magic on screen is far more about the spirit than the budget. Since graduating from the University of Oregon in 2013, Blanton has lived in Seattle and Boston– working on such projects as "The Hunting Ground," and "Poetry in America"– and New York, where he focuses on work that he hopes will bring a little more kindness and wonder into the world.